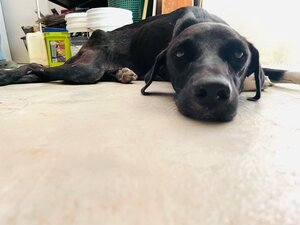 Welcome Pepper (formerly Pantera). If this sweet pup looks familiar to you, it's because she was part of our latest community outreach effort. Pepper is the 3rd dog we have acquired from this property, little Ruby, then tiny Darwin, and now Pepper.
The Snoopi Project and our dear friends at SOS El Arca, will be working together to ensure Pepper gets the happily ever after she deserves.
It started to become clear to us that Pepper was suffering severe neglect. She remained emaciated, even after two rounds of de-parasite and an ample food supply, donated to the owners to keep all of their dogs properly fed. At times community outreach work can be very difficult. We do our best to try to educate the owners on proper pet care. Most times it's well received and we feel like we are making progress, but in poor Pantera's case, we noticed she was getting considerably worse instead of better. We knew we couldn't leave her there to suffer an unknown fate.
We acted fast and made the decision to try to save her life from this very neglectful situation.
Pepper is approximately 1.5-2 years old. She has lived her entire life tied to a tree, having a litter of puppies very heat cycle.
Thank goodness we rescued her when we did…
Pepper has dangerously low platelets at 0, she is severely anemic, extremely underweight weighing 12kg (normal weight for her should be 18kg), if all of this isn't bad enough, she has also tested positive for Anaplasmosis (tick-borne disease). If Pepper's health doesn't stabilize she will need to be hospitalized and have a blood transfusion.
Since we had absolutely no foster homes available, Pepper is currently in our favorite boarding facility with the loving and very caring Ornelas Family.
They are feeding Pepper small meals every 2-3 hours, to gradually replenish her body with the nutrients she desperately needs. This has to be done slowly to avoid her fragile body from going into shock.
Donations are desperately needed to cover all Peppers medical, boarding and food expenses.
​