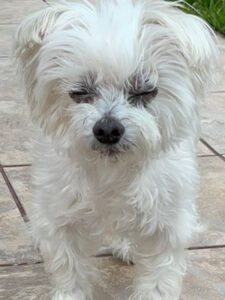 Kiki is a 12 year old Maltese rescued from animal control after she was confiscated from her owner. She is deaf and mostly blind, we believe she can see some shadows. She does not seek out attention but if given to her she will accept it.
In her foster home she mostly stays to herself and pays no attention to other animals. She will walk on a leash and has the ability to learn her environment and navigate well. Due to Kiki's challenges she needs a routine and consistency. Without this Kiki's world becomes scary to her and she will begin to bark to let you know that something is wrong.
At her current foster home Kiki will sleep in her crate during the night with no issues. She eats three times a day and goes into the yard for exercise and to potty. If Kiki is in a schedule that fits her she does not mess in the house. If Kiki is in the house or yard and gets lost she will bark to let you know but once her need is met she will settle. With consistency and a schedule Kiki hardly every barks at her foster home.
We need a long term foster home for Kiki that is located in Broward, Dade or Palm Beach County. She will remain a Milo's dog with us responsible for all of her food and medical needs. The foster parents need to be mostly at home, have a fenced yard where she can walk and no children. They have to be able to bring Kiki to our vet in Pompano Beach for her routine appointments. These requirements are not negotiable for her as this is what she needs to thrive in the home.
Kiki lives in a very dark and lonely world and we are looking for the very best outcome for her to live out her years being loved. If you are interested in being considered please contact us.