We're ears and tails deep into the beauty of June. Have you stepped out on any of those summer adventures you'd dreamed of over the winter? Singing birds give a bright-and-early wake-up call and the sun is staying longer and longer each evening. The hours in between are all yours to enjoy.
Rain or shine, don't let these days pass you by. Sunny afternoons beg for a spontaneous day trip. Warm rainy evenings are perfect for reading a book on your porch or tackling an indoor project. If bath time is on the canine schedule anyway, you and your dog can head right out into the rain to stomp in some puddles before sudsing up in the tub!
Bring some summer fun into your work day
While it would be fantastic if summer were a three-month long vacation, that's not an option for most of us. However, there is a way to bring the very best part of your home life into your workplace, this very week.
It's Take Your Pet to Work Week – five furry days of celebration leading up to Take Your Dog to Work Day on June 25. If your workplace is pet-friendly and your dog loves people and other dogs, you are a lucky pup parent!
Half of the executives surveyed by Banfield Pet Hospital say they plan to allow returning employees to bring pets to work, and 59% said they'll allow flexibility for workers who want to continue to work remotely with their pets. If pets didn't figure into your office before the pandemic, they may be center stage now!
Thinking about bringing your dog to work this Friday? Pet Sitter's International (PSI) has some straightforward advice for responsible Dog Moms in the workplace, starting with "Ask Permission" (of course!) and ending with "Have an Exit Strategy." Just like a kid at their first sleepover, your dog may decide that the full 9-to-5 is a bit too much  —  or he could be a social butterfly who never wants to leave. You'll want to read PSI's entire article so you'll be prepared.
Pets and Zoom are a pandemic love match
Don't feel left out of the Dogs at Work celebration if you work from a home office. Your dog will be totally relaxed and happy in familiar surroundings. Some dogs probably prefer an at-home party to the bustle of a business office, anyway.
Here are a few ideas to make the day extra-special and share your best friends with your co-workers or very best clients — whether you are in-office or working from home.
Arrange a "pets-invited" Zoom call at lunch with co-workers and let everyone's pets crash Zoom on purpose.
Don't work through your lunch break. Get outside and put work completely out of your mind. Relish the calming break with your dog and enjoy the early summer warmth.
Take a selfie of the two of you enjoying the dogs-at-work day together. Invite your cat in on the action, too! Then flaunt your furry family on social media with the hashtag #takeyourdogtoworkday. Tag us, too @dogmomlifestyles!
A new meaning for "working dog."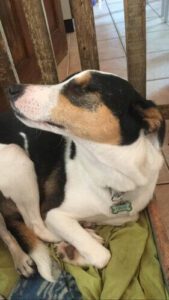 In a few families, humans aren't the only ones who bring home the bacon. Ethan, a rescue dog adopted from the Kentucky Humane Society, is a big breadwinner in his home. He's pulling in a cool $20 grand a year, plus benefits ($800 in pet insurance) as the official taste-tester for Busch's new "Dog Brew" bone broth.  Ethan gets to take his parents to work with him.
You give back, too, every single month with your Dog Mom Lifestyles membership. June's Rescue Story comes from  Territoria de Zaguates in Costa Rica. They rescued Ray Charles, a handsome dog who lost his sight due to progressive retinal atrophy — a painful condition that caused him to go blind. Luckily, the sanctuary's loving care and dedication would grant him a new life and a new home. You can read his full story here!
Dive into the gift of summer
So, ENOUGH about work! Dive headfirst into the glory and relaxation of summer. Savor it – you have months of warmth and discovery ahead of you.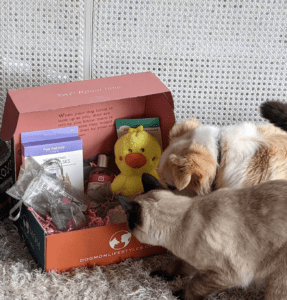 We'd love to hear all about your summer adventures or, better yet, show us!  We're waiting for you on Instagram and Facebook, where you can tag your images with #DogMomLifestyles and join Dog Moms everywhere who are sharing their adventures, from their exciting road trip to a simple walk in on a shady lane.
When you return to home base to rest on your shady porch or relax in your air-conditioned front room, you can anticipate the simplest of adventures…opening your next box of treats, self-care, discovery, and rescue.  
Barks and xoxox,
Dog Mom Lifestyles