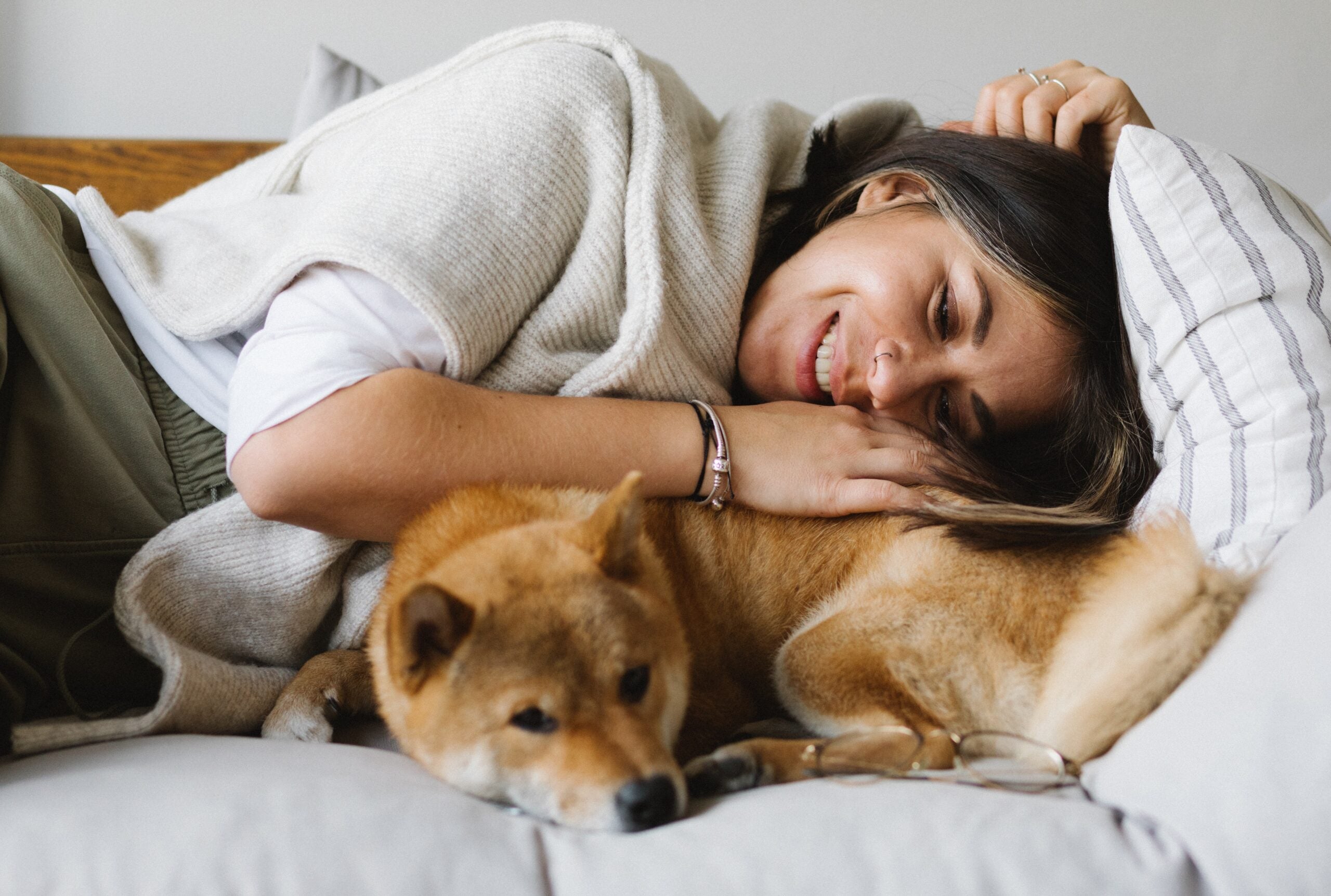 As a dog mom, we face stress just like anyone else. We wanted to talk a little more about ways on how we can reduce those stress levels everyday with simple steps, so that your dog mom's day can be even more enjoyable for both your dog and you!
So let's look at some of the things you can do right now to change your routine in a positive way. 
Get Active Daily
Virtually any form of physical activity can act as a stress reliever. Even if you're not an athlete or you're out of shape, exercise can still be a good stress relief, and even more so when you include your dog!
Physical activity can pump up your feel-good endorphins and other natural neural chemicals that enhance your sense of well-being.  Exercise can also help to refocus your mind on your body's movements, which can improve your mood tremendously and help the day's irritations fade away. Consider adding in some form of exercise each day, whether it be gardening, walking, running, weight lifting, biking or swimming. Find what works for you and stick with it! You will be surprised at how much better it can make you feel.
Enjoy a Healthy Diet
Eating a healthy diet is an important part of taking care of yourself. Aim to eat a variety of fruits and vegetables, and whole grains every day. This also goes for you dog, if you are cutting up an apple or carrot for an afternoon snack be sure to slice off a small piece for your dog to enjoy as well.
Most dogs love fruit and vegetables, and most of them are ok for them to eat. Ones to avoid for dogs are grapes, onions, avocado, potatoes, and rhubarb.
It's pretty common for some people to deal with stress by drinking too much caffeine or alcohol, smoking, eating too much, or using illegal substances. These habits can harm your health, and should be avoided if possible. Of course don't deprive yourself either, having an occasional alcoholic drink is perfectly ok, the important thing is to do all things in moderation to avoid over excessive use.
Meditate
During meditation, we like to focus our attention on the silence, and cutting out all thoughts of stress or things that cause our mind to go in a place that stears us in the wrong direction. Meditation can instill a sense of calming, peace and balance that can benefit both your emotional well-being and your overall health.
Guided meditation, guided imagery, visualization and other forms of meditation can be practiced anywhere at any time. The important part of meditating is to avoid areas with distractions or things that can interrupt your peaceful moment. Focusing solely on your breath while meditating. Meditation is also very therapeutic for a dog as well, so be sure to include your quite time with your pup.
Laugh more
A good sense of humor can't cure all ailments, but it can help you feel better, even if you have to force a fake laugh through your grumpiness. They say laughter can really bring positivity into your body, and make your have less stress on your mind.
Dogs are a great way to make us laugh, so grab their favorite toy and play with them or chase them around the house. No matter what you do to bring some laughter, your dog is sure to help with this one.
Next time you need to laugh, watch a funny show, hang out with some friends, or look for some jokes to bring a smile to your face.
Connect with others
When you're stressed out and frustrated, naturally our instinct is to be alone or mellow in our stressful thoughts. But this is never good when dealing with stress, it's important to reach out to family or friends to get your negative thoughts out of your head.
Have those social connections with others, this most times will help eliminate the stress levels.
Social contact is a good stress reliever because it can offer a distraction, provide support from an outsider and help you face your ups and downs together versus alone.  So take a coffee break with a friend, or go to your local dog park with your pup and meet some other fellow dog moms. Dogs and being outdoors are sure to bring your frown upside down. +
Are you looking to change up your monthly routine with your pup. Take our dog mom quiz to find out your best stress ritual and find out what dog mom you are.
Join our text community to be the first to know when we open our doors for new subscribers!