As dog moms, we know that our pups collect a ton of their own belongings over time – bedding items, toys, bowls, clothing, the list goes on and on. And, much like our own personal items, those items need to be taken care of and washed regularly to keep them in good condition and safe for our furry besties.
The recommendations below walk you through how often to clean your pup's items and the best way to ensure that they get properly cleaned.
Bedding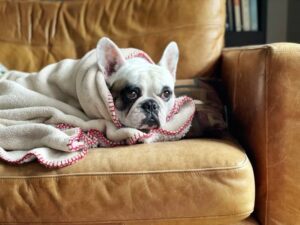 Even more than us dog moms, pets use their bedding a lot! As a result, they get full of fur, dirty and, unfortunately, pretty smelly at times. It's best to wash your pets bedding and blankets once every week to keep them clean and bacteria free. * Tip – Be sure to remove as much hair as you can from them before you put them in the washer (with a link brush or vacuum) and wash them in hot water with a mild detergent.
Bowls
Believe it or not, you should be washing your pet's bowels after every meal, or once a day at minimum. Most bowls can be put into the dishwasher, but hand washing bowls in hot soapy water will also work just fine. While washing, if you see any chips or cracks, that means it's time to toss those bowls in the trash and get some new ones. Those cracks can be a breeding ground for bacteria. Gross!
Toys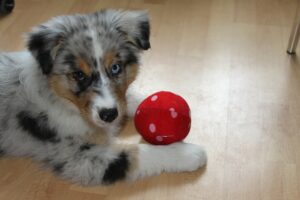 Our pets love our toys, don't they? In order to ensure that they stay clean and in good shape, they should be washed at least once per week. Like most pet items, they can harbor bacteria that could be dangerous to your pup's health. 
Hard toys – Wash in hot, soapy water in your sink. Be sure to rinse them off well.
Soft toys – Your dog's favorite stuffies can be put in the washer (just check the tags first) and washed with your pet's bedding.
Of course, if the toy is visibly dirty (mud, dust, etc.) then it should be washed right away.
Clothing
Dog Moms – your pup looks adorable in their little sweaters, tees and dresses, but are you washing them regularly? Dog clothing should be washed every 2 weeks to keep them smelling fresh and looking clean.
Collars, harnesses and leashes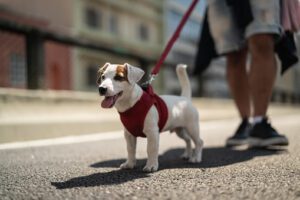 To prevent bacteria from growing, these items should be washed at least once a month (or more if they are visibly dirty). Nylon items can be tossed in the washer inside of a mesh bag and laid out flat to dry. If your collar, leash or harness is leather, then a good soak will do the trick. Be sure to check that the items are completely dry before putting them back on your pup.