Nourishing your Skin while relaxing
We want you this April, to take the time to focus on your body and skin, because as we dive into spring it's important that we don't neglect our skin and keep it well nourished during the hot summer days ahead.
Let's dive into our April box edition and how we are going to provide you the nourishment you need.
Our dog mom monthly box is sure to give you a feeling of relaxation. 
Beauty Tastea
The day has just started, it's time to begin your morning ritual. But instead of grabbing your favorite coffee brew or tea let's grab this delicious Beauty Tea. After all, who doesn't want to start their day off with something warm, cozy and has added benefits to your skin. To us that's an added bonus that every woman deserves. 
So let's look a little deeper into this double win tea that is included in your April box. 
This Beauty Tastea is rich in ingredients that will help you clear your skin and promote a positive and healthy wellbeing. Everything starts from within, so with this tastea it's here to help you rejuvenate and bring out the best in you!
How it tastes like: Minty, herby and fruity, with a slightly tart taste.
 ♥ Ingredients: Organic Sage, Organic Chamomile, Organic Rosemary, Organic Rosehip, Peppermint leaf, Nettle leaf, Hibiscus flower, Jasmine.
 ♥ Directions: Infuse 1 teaspoon in a cup of near boiling water for 5-10 minutes. You can use a strainer or tea infuser.
 ♥ Tastea Tips: Sip hot or top with ice for a delicious ice tea. For those with a sweet tooth, we suggest that you add honey for sweetening.
Natural, Vegan, Caffeine Free, Gluten Free, Made In Greece
Tastes great and has added health perks, that's a win win in our books! Don't you think?
Rose Gold Tea Strainer
To pair with your beautiful tea we thought it was important to steep it in a beautiful delicate way with this rose gold strainer.
This Beautiful rose gold tea infuser steeps perfect cups of loose-leaf tea so you no longer need to guess how much tea to put in your cup to get the perfect strength of tea. Just fill this tea strainer to the rim, seal and drop in your hot water. Be sure to let your tea steep for 3-5 minutes for the right amount of flavor.
  .
Love for Dogs Coasters
While you enjoy that beautiful tasting tea to start your day, let's not forget to place that mug/cup on a perfectly curated coaster.
These dog loving themed coasters are perfect for your living room on your coffee table, for you and all your company to enjoy when they visit. Inspired by dogs and made for dog owners in mind!
Enjoy the quality behind these coasters as well as the beautiful stand to hold them in when not in use.
Sponge Pocket by Spa Sister
It's been a long day, and Dog Mom, you're ready to dive into a nice warm shower/bath to help you relax and rejuvenate. 
Rather than just grabbing your ordinary body wash bar to wash your skin, let's grab this soft lush sponge pocket. Put your favorite body bar into this specially designed soap pocket lather and just enjoy the soft touch to your skin while cleansing and exfoliating the skin. To leave it feeling soft, and primed ready for moisturization. Be sure to concentrate on dry areas such as elbows and knees to silken and soften skin.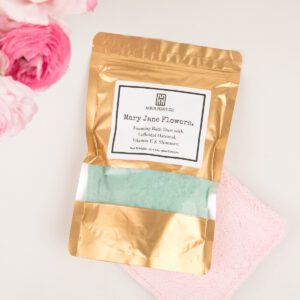 Foaming Bath Dust by Aqua Haus
To add to that wonderful bath you look forward to after a long dog mom's day, let's make that bath extra special and give you a little more relaxation so you can come out feeling super refreshed. 
When you want to seduce with the scent of Roses AND bathe in Gold! Rose Ruby with Gold Foaming Bath Dust is fit for a Queen. Perfect for pre night-out pampering or just because- Oh yes! You deserve it! 
Enjoy beautiful Bath Art that will leave a delicate touch of gilded shimmer on your skin as well as make it supple and smooth from the dose of skin loving oil and powerhouse ingredients of Colloidal Oatmeal and Buttermilk Powder.
 Making your skin supple, soft and soothed as Colloidal Oatmeal has been recognized in 2003 by the U.S. FDA to treat a multitude of skin conditions. In addition, Buttermilk which is rich in Lactic Acid provides gentle exfoliation. Seems like Queen Cleopatra knew all about this beauty regimen.
"Now let's talk about our furry best friend and how we can help them relax and enjoy their little monthly ritual."
Bedtime Tea Dog Treats
From morning to night, it's important to enjoy both your morning routine and nighttime routine. That's why when you're grabbing your favorite nighttime tea to help you feel refreshed, be sure to grab something for your furry little friend too! 
Calling all insomniacs and stressed out pup parents! These Bocce bakery treats are  the biscuit for you. With lavender, vanilla, and comforting oats – this biscuit will have your pup dreaming in no time. It's the perfect nighttime snack to help relax your pup before bed. 
Wheat-Free
100% Real Ingredients
Baked in the USA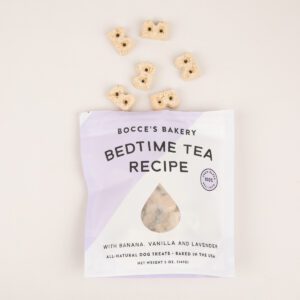 Ladybug Squeaky Crawler/Zippy Claw
We all know how much our furry pups love a good squeaky toy to play with. Better yet something cute and fuzzy. Your Dogs will have hours of fun playing with Betsey The Ladybug plush toy and their zippy claw beverage 🙂
This one is sure to bring a laugh! Of course minus the alcohol! This one will be fun for everyone around!
Exclusive Noisemakers – Each toy includes 6 high-quality round squeakers to deliver more sound to keep your best friend entertained all day long. 
No Stuffing for the ladybug – This fun toy is flat and filled with squeakers instead of stuffing for rewarding play. That way you don't need to worry about your dog pulling it apart and eating the inside. 
Just The Right Size – Squeakie Crawlers are great for dogs of all sizes. The soft fabric won't hurt their teeth and is perfect for teething pups or playful grown ups. Unique Design – Beautifully-designed, high-quality pet products for the modern dog mom.
Not yet a subscriber? Our monthly ritual can help you de-stress each month!
Take our FREE quiz to see what dog mom you are.
Join our text community to be the first to know when we open our doors for new subscribers!